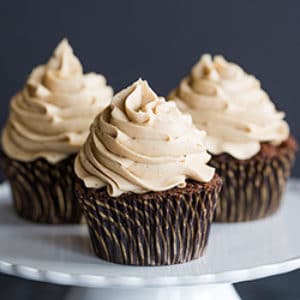 Delicious Coffee Cupcakes
Is your daily dose of coffee not enough for you? Are you looking for something a little extra? Do you want to know how to make the best coffee cupcakes? Simple all you have to do is use our Famous Amaya coffee and of course follow this awesome recipe I have listed below for you. It has the perfect balance between light chocolate and a hint of creamy delicious coffee.
If you want to make amazing cupcakes with the most fabulous coffee do yourself a favor and follow this recipe!! I know it seems like I am pushing you but it's because I am. LOL. So now that I have obviously convinced you I bet your trying to figure out what occasion you should make these for aren't you? Honestly any occasion whether it be for a friend, teacher appreciation week or even a holiday. I guarantee someone will be head over hills for them and you might even be the talk of the party for bringing these bad boys. Plus they are homemade who doesn't love homemade? I do! I do! If you are a mom like I am you could easily make these with your little ones and spend that fun quality time us moms are always looking for. The coffee is not overbearing so it should be fine for kids to consume.
Mocha cupcakes with espresso Buttercream icing
INGREDIENTS:
For the Cupcakes:
• ½ cup (120 ml) brewed coffee, at room temperature
• 1½ teaspoons espresso powder
• ½ cup (120 ml) whole milk
• 1 teaspoon vanilla extract
• 1⅓ cups (189 grams) all-purpose flour
• ⅓ cup (28 grams) unsweetened cocoa powder
• 1 teaspoon baking powder
• ½ teaspoon baking soda
• ¼ teaspoon salt
• ½ cup (113 grams) unsalted butter, at room temperature
• ½ cup (99 grams) granulated sugar
• ½ cup (99 grams) light brown sugar
• 1 egg, at room temperature
For the Espresso Buttercream Frosting:
• 1 cup (227 grams) unsalted butter, at room temperature
• 2½ cups (283 grams) powdered sugar
• 1½ teaspoons vanilla extract
• 1½ teaspoons espresso powder
DIRECTIONS:
1. Preheat the oven to 350 degrees F. Line a standard-size muffin tin with paper liners.
2. Make the Cupcakes: In a measuring cup, whisk the espresso powder into the brewed coffee until completely dissolved. Add the milk and vanilla extract; set aside.
3. In a medium bowl, whisk together the flour, cocoa powder, baking powder, baking soda and salt.
4. With an electric mixer on medium speed, beat the butter and both sugars until light and fluffy, about 3 minutes. Add the egg and beat until combined. Reduce the mixer speed to low and add the flour mixture in three additions, alternating with two additions of the coffee mixture, mixing each until just combined. Using a rubber spatula, give the batter a final stir to ensure everything is incorporated.
5. Fill each muffin cup about two-thirds full with batter. Bake for 17 to 20 minutes, or until a toothpick inserted in the center of a cupcake comes out clean. Cool completely before frosting the cupcakes.
6. Make the Frosting: In a small bowl, whisk the espresso powder into the vanilla until dissolved; set aside.
7. Using the whisk attachment of a stand mixer, whip the butter on medium-high speed for 5 minutes, stopping once to scrape the sides of the bowl. Reduce the mixer speed to low and add the powdered sugar a little at a time, waiting until it is mostly incorporated before adding more. Once all of the powdered sugar has been added, scrape the sides of the bowl and increase the speed to medium-high and whip until fluffy, about 1 to 2 minutes. Add the espresso and vanilla mixture and continue to mix at medium-high speed until it is completely incorporated, scraping the sides as necessary. Frost the cupcakes as desired (I used the Wilton 1M decorating tip).
Hope all you coffee lovers enjoy this recipe! If you make it don't forget to share it online and tag us in it! We would love to see them.
Love always,
Coffee Obsessed Nina 🙂